---
The New Look of Ohio Coal Mines
By Patrick Cooley
The Columbus Dispatch
On a brisk October afternoon, Ed Spiker stood on a black surface in the middle of a quarry cut more than 100 feet into a hillside near Cadiz, Ohio, flanked on three sides by layers of stone and sediment mapping the region's ancient history.
He put a finger on the course, sedimentary rock that powers millions of Ohio homes and businesses.
"I'm the first human to touch this coal," said Spiker, a director of sales and marketing for the mine's operator, CCU Coal & Construction.
While it may not look like it to most, Spiker was standing in a coal mine.
Coal mining conjures images of burly men in hardhats, their faces blackened and hands calloused, carrying pickaxes into dark shafts of buried coal.
In Ohio and elsewhere, that's rarely reality: The majority of today's coal mines are above ground, and after a Belmont County mine shuttered over the summer, all of Ohio's remaining mines are surface mines.
"More times than not, you'll have this set up," said Bob Seitz, engineering manager for CCU, pointing to the exposed walls in the mine.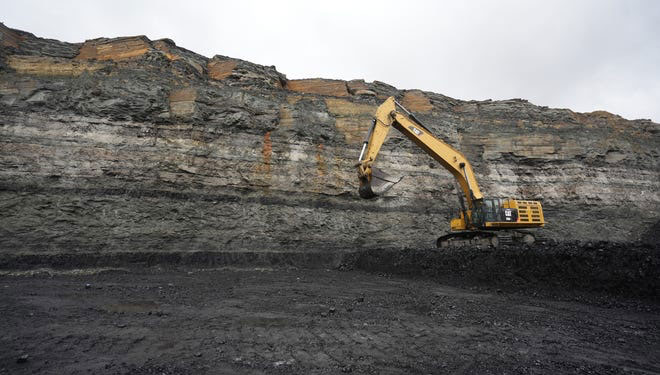 Why above ground?
Surface mines are more cost-effective than traditional tunnel mining, Seitz said.
"To put a deep mine in, it's very capital intensive," he said. "You have to have a 50- to 60-year reserve to be able to justify those costs."
"You can make an argument (surface mining) is a little safer," he added. "You're above ground," eliminating the chance of a cave in and reducing miners' exposure to coal dust.
The move to surface mining began in the 1950s, according to experts, and in Ohio the transition is nearly complete. After the Belmont County mine closed over the summer, all six of the state's remaining mines are above ground. All are in Eastern and Southeastern Ohio, near West Virginia.
Is above ground better?
Experts debate whether surface mining is better for the environment than underground mining.
Above ground mines see fewer deaths, which experts attribute to fewer cases of black lung disease among surface miners.
"Once (the land) is reclaimed, it's more environmentally sound," Seitz said.
Eric Dixon, a senior researcher for the environmental think tank Ohio River Valley Institute, disagrees.
"In general, surface mining is more environmentally harmful," he said.
The soil and rock removed to reach coal seams — called "overburden" — has to go somewhere, he said.
"It can make its way to stream beds" and destroy fish habitats, Dixon said. "These very large surface mining operations are really changing the landscape in a way that would take generations to restore if it could ever be restored."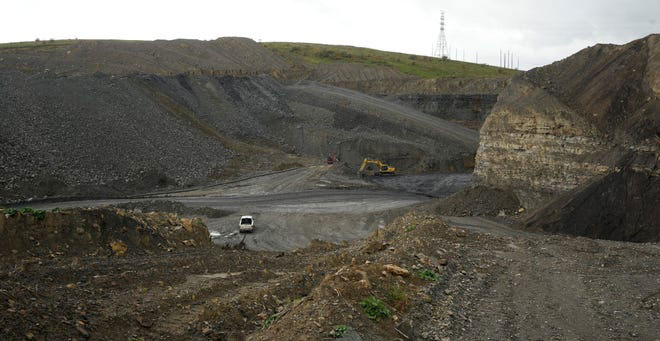 CCU uses overburden to fill its unused mines, Spiker said.
Coal companies are required by law to restore as much of the natural habitat as possible, and government agencies monitor their progress, he noted.
Above ground mines still face opposition. Activists and citizens groups for years protested CCU's Johnson Run mine in Athens County.
The Ohio Department of Natural Resources and the Ohio EPA said the environmental impact of the mine would be minimal. That didn't stop the activist group Save Our Rural Environment from showing up at public meetings demanding greater scrutiny. Activists were concerned about the impact of mine drainage on the Sunday Creek Watershed.
"They didn't bother to really take the hard look they needed to take at the stream's water quality," said Roxanne Groff, a founding member of Save Our Rural Environment.
Local government officials agreed with the EPA and the mine opened in 2020.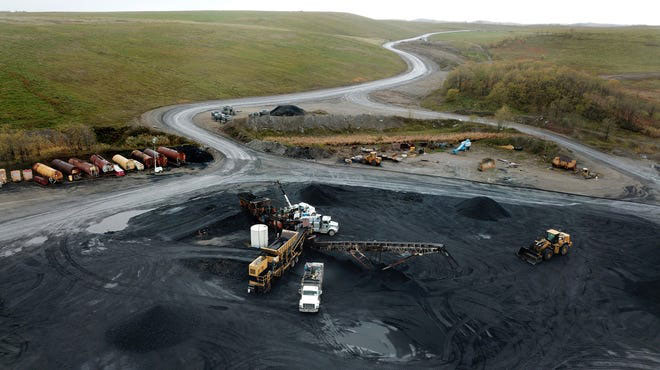 Reclaiming the land
CCU Mining & Construction is nationally recognized for its reclamation, and Spiker was eager to show off a section of the Cadiz mine the company is returning to a natural state.
At the southern end of the sprawling mine, a quarry is partially filled in and straw covers a portion of the hillside.
Spiker said the land will eventually be ready for cattle grazing.
The Cadiz mine has another two-and-half years of production after around 23 years of operation, Seitz said.
"After the production is done it's about two years to reclaim it," he said. "There's certain milestones and performance standards you need to meet to get your bond back. And the (Ohio Department of Natural Resources) will evaluate you over a five-to-seven-year period. Depending on how the reclamation looks that determines how quickly you get your money back."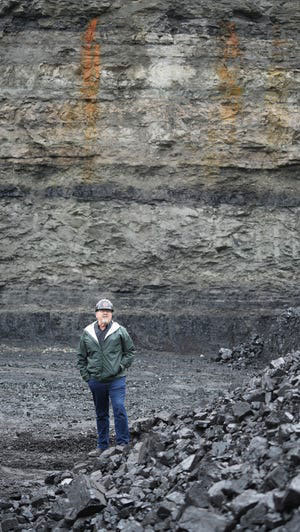 A 1977 law created reclamation bonds that coal companies must pay up front before opening a mine. But investigations by environmental groups and news outlets have documented gaps and loopholes coal companies use to avoid paying the bonds.
"The theory is they are supposed to put up enough money so the state could do it if they walk away," Dixon said.
But a report last year from the nonprofit advocacy group Appalachian Voices found the bond money was insufficient.
Coal critics like Patrick McGinley, a West Virginia University professor who teaches environmental law, worry coal companies will go out of business before fulfilling their responsibilities.
"The coal industry is collapsing," he said, noting that at least 50 coal companies have declared bankruptcy since 2012 as renewable energy projects proliferate over concerns about climate change.
Ohioans are no longer dependent on coal for electricity. The grid that powers Ohio, 13 other states and the District of Columbia drew around 22% of its energy from coal-fired power plants in 2021. That figure was more than 34% in 2016.
Just over 500 people now work in Ohio mines, according to the Energy Information Administration. That figure was more than 3,000 in 2010.
---